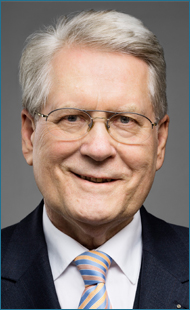 Dr. Dieter Lingenberg
Lawyer, notary a.D.
Member of the Thuringian Constitutional Court i.R.

Core competence
Dr. Lingenberg is specialised in the areas of contract law, inheritance law, real estate law and corporate law. In particular, due to his many years as a Public Notary, Dr. Lingenberg is an expert in the contract drafting. He is focussed on advising private individuals and entrepreneurs in matters of estate and business succession (anticipated succession, donation agreements, wills, entrepreneur's testament, spouse's will, health care proxies, living wills and care orders, execution of wills), as well as in matters of foundation, reorganization and sale of companies of all legal forms. Another focus of his work is the support of real estate transactions.

Background
After studying law at the Universities of Hamburg, Heidelberg and Cologne, Dr. Lingenberg worked as a lawyer and notary in Essen and in the early eighties he was a founding member of one of the first medium-sized German law firms, acting Europe-wide. From 1984 to 1994 he was also member of the Essen City Council and chairman of the Audit Committee. From 1992 to 2010, Dr. Lingenberg acted as notary with headquarters in Erfurt. In parallel, he was Member of the Thuringian Constitutional Court from 1996 – 2003. Since Sept. 2011, Dr. Lingenberg has worked as a lawyer again.


Memberships | Languagaes
Dr. Lingenberg is member of the Industrieclub Thüringen, the Rotary Club Erfurt-Krämerbrücke and the Institute of Energy Law at the FSU Jena. He speaks English fluently, in speech and writing.